A book lover's guide to Wellington
Arts & Culture
Each sculpture features a quote from a New Zealand writer with strong connections to the capital.
Wellington may be known as the city of wind, but it is also a city of words with many of New Zealand's best known authors, poets and playwrights having a connection to the capital.
I have a degree in English Literature, so exploring Wellington's bookshops just 40 minutes drive south of my current home is a favourite weekend activity of mine, but there is plenty in the city to keep literature lovers entertained for at least a couple of days.
One of the best places to base yourself for a literary odyssey is the Booklovers B&B. Situated in Pirie Street in Mount Victoria, the bed and breakfast is a short walk away from many of Wellington's main attractions. You can enjoy a full cooked breakfast, help yourself to tea and coffee and chocolate chip cookies in the lounge and make use of the free internet, but avid readers will find most enjoyment in the selection of books placed in the rooms and communal areas. You can even take a book with you when you leave. Run by writer Jane Tolerton, Booklovers is a popular resting place for other authors and booksellers so you never know who you might get chatting to over breakfast.
Once in the city, head to the waterfront where a walk dedicated to some of New Zealand's foremost writers, winds from Te Papa, the National Museum, round the harbour to Frank Kitts Park. Along the way you can spot 19 subtle sculptures by typographer Catherine Griffiths and Wellington architect Fiona Christeller. A trail booklet can be picked up from the city's library or information centre to help you find your way.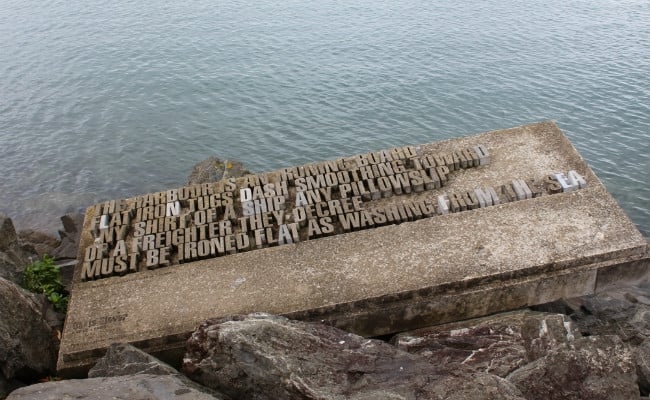 Each sculpture features a quote from a New Zealand writer with strong connections to the capital. They include words by novelist Maurice Gee, poet Bill Manhire and playwright Bruce Mason. Also featured is one of New Zealand's best known authors Katherine Mansfield.
Wellington was Mansfield's birthplace and the city retains a close bond with the short story writer. The house in which Mansfield grew up still stands in the suburb of Thorndon - a ten minute walk or a short bus ride from the central city.
Memories of the house and her life there feature heavily in many of Mansfield's stories and the property has been faithfully restored to give visitors a glimpse of what it was like in Mansfield's day. It is filled with antique furniture of the time and reproductions of the original wallpaper, while the garden is planted as it would have been when Mansfield lived in the house in the late 1800s. A series of permanent and temporary exhibitions reveal more about Mansfield's life, inspirations and work.
More of Katherine Mansfield's work can be found at the National Library of New Zealand in Molesworth Street, along with a host of other documents, books and rare treasures for bibliophiles. The Alexander Turnbull Library within the National Library provides research assistance for scholars and researchers, but also opens parts of its collection to the public through a series of changing exhibitions in the Turnbull Gallery. Based originally on the collection of Alexander Horsburgh Turnbull, a merchant and book collector who gifted his collection to the nation in 1918, the library's collection has grown to include rare manuscripts, maps, photographs and sketches.
If all the reading has made you thirsty, then take time to relax in the library's cafe to recharge your batteries. Once you have done so, head back out to the central business district where you can spend an afternoon browsing the bookshops to replenish your reading stock.
While you will find the usual bookshop chains in Wellington it pays to seek out some of the city's independent booksellers for a more interesting shopping trip.
Unity Books in Willis Street is a bit of an institution in Wellington, established in 1967 by sportsman and philosopher Alan Preston. The shop soon developed a reputation for sourcing obscure books and was one of the first shops to import books from overseas. Alan died in 2004, but Unity Books continues to embrace his love of books and connecting them with readers.
Nearby, in Manners Street, Arty Bees Books spans several floors and has more than 100,000 books on its shelves. Specialising in science fiction and fantasy and New Zealand fiction and non-fiction, Arty Bees also stock rare and antiquarian books making it a perfect place to find a gift for the book lover who has everything. Its range of pre-loved books also gives you the chance to stock up your reading pile while saving a few dollars.
If non-fiction books are more your thing, head over to Capital Books in Featherston Street which sells practical information and technical books. Here you will find books to help you in practically any subject you can think of and the staff will happily share their personal knowledge of their chosen hobbies.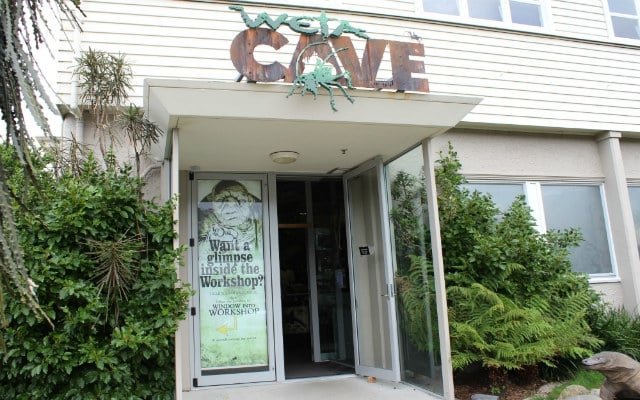 No visitor to Wellington in recent years can ignore the city's successful film industry and the Weta Workshop that is behind some of the ingenious creations in films such as Lord of the Rings and The Hobbit. While some book lovers may take issue with the way great works of literature are portrayed in movies, even those who preferred Tolkein's original work to the film version will find the work of Weta's creators interesting. While the workshop in the suburb of Miramar is private the Weta Cave, next door is open to the public and showcases some of the designers popular work and the stories behind them
On the way detour to Kilburnie where you will find another independent bookshop, this one specialising in young readers. The Childrens Bookshop sells board books for babies, short stories for pre-schoolers and popular fiction for young readers such as the Harry Potter series and its staff are on hand to help you find books which will interest even reluctant readers.
Wellington is an ideal place to discover new authors, both local and international and to spend time expanding your book collection. As this article is about writers it seems apt to finish with a quote.
This quote from Wellington-based author Patricia Grace is among those featured on the Writer's Walk and aptly describes the capital.
I love this city, the hills, the harbour, the wind that blasts through it. I love the life and pulse and activity, and the warm decrepitude ... there's always an edge here that one must walk which is sharp and precarious, requiring vigilance.