Wellington's Cuba Street
Arts & Culture Inspiration
A local's guide to the bohemian micro-cosmos of Cuba Street
You may often hear somewhere described as an 'anything goes' kind of place which usually means that, in fact, only the more outlandish 'goes'. However, Cuba Street Wellington proves that the phrase can be used in its true sense. The extra-ordinary to the totally bizarre can indeed be encountered in this bohemian micro-cosmos that encapsulates all that is fun, funky and happening in Wellington. But so too can be found the crisp-suited businessman having his lunch or an after-work pint.
Much of the magic of Wellington's Cuba Street is woven by the presence of all-kinds-of-people rubbing shoulders harmoniously throughout its 2km of eclectic shops, bars, multi-style music venues, cafes and galleries - all set along a pedestrian street where trams once ran.
Creative and quirky Cuba Street allows a meeting of minds - from the colourfully clothed theatre, music and arty folk which hang around here to the (usually) more soberly- attired business entrepreneurs, holidaymakers and students - Cuba Street brings it all together. And it works wonderfully.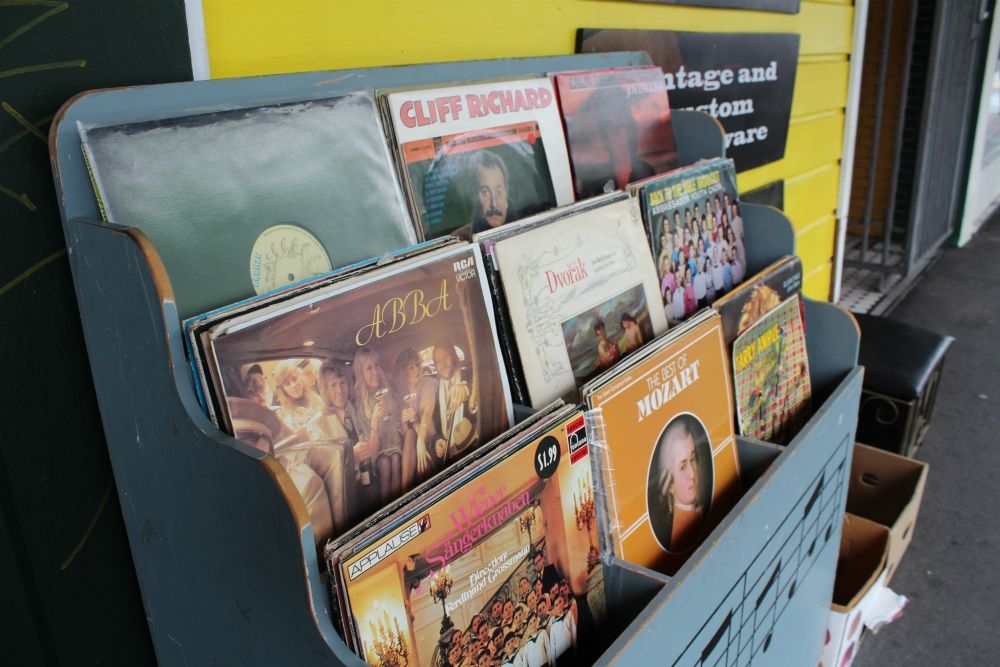 I never tire of soaking up the fusion of shabby chic meets urban thrum on Wellington's Cuba Street and I love that although it remains quintessentially Kiwi it also offers me a flavour of the world. From Japanese to Mexican - the food comes from all over. Its music isn't just influenced by but played by folk from all over the world too - from the Brazilian street-busker to the saxophonist performing at a cocktail bar.

The Asian-reminiscent Wellington Night Market is somewhere I can have a foot massage, visit a fortune teller or simply just eat and be entertained while the pavement cafes exude an air of mainland Europe.
Quite what a day on Cuba Street means for me, depends on my mood.
Heavenly Coffee or a Bite to Eat
At last count Wellington's Cuba Street had more than 100 cafes and eateries ranging from the ethnically-flavoured pocket-sized jewels to the airily spacious fine-dining venue. Most are open all day long and, in many cases, far into the night.
Martha's Pantry - 276 Cuba Street, Wellington. With its retro tiered cake stands and its vintage crockery, tablecloths and knitted tea-cosies, coming here feels like going to Granny's and I love it.
Fidel's Cafe - 234 Cuba Street, Wellington. Cuban coffee in an atmosphere which describes itself as a 'bohemian bastion'.
Midnight Espresso - 178 Cuba Street, Wellington. A Wellington vegan/vegetarian institution with an earthy vibe that has been around for 25 years serving to-die-for coffee.
Logan Brown - 192 Cuba Street, Wellington. Set in an elegant bank building, almost 100 years old, award-winning Logan Brown exudes an ambience of refinement. With its innovative dishes alongside well-loved classics and with live jazz enhancing the experience, this is my first choice for special occasions.
​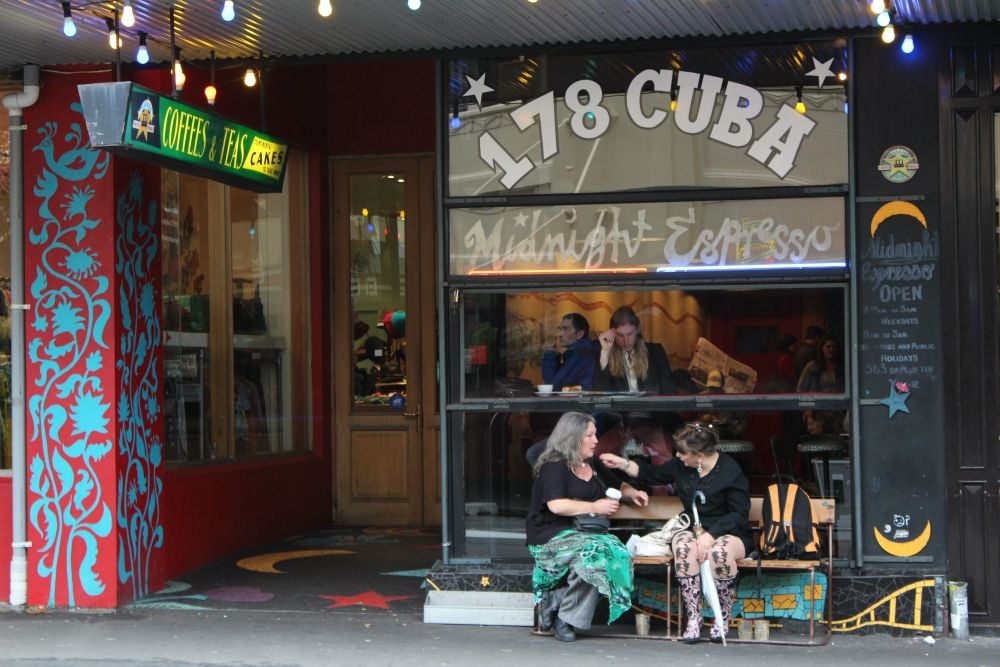 Music, Cocktails or a Pint
Cuba Street
has plenty of live music on offer, particularly once the sun goes down, covering just about every genre going. Equally present are options for an after-dark drink whether you're looking for a sophisticated wine bar or grungy pub.
Olive - 170 Cuba Street, Wellington. My pick of the crop for music with its secret-garden feel open-air courtyard.
Laundry - 240 Cuba Street, Wellington. This is the street's newest retro-furnished lounge bar and music cafe .
Matterhorn - 106 Cuba Street, Wellington. Iconic status that regularly hosts some of Wellington's best musicians.

Some Off-the-Wall Retail Therapy
Second-hand boutiques are dished up by the bucket load on Cuba Street and perhaps nowhere else in New Zealand will you find such a helping of vintage and retro delights which include furniture, home-wares, clothing, shoes and jewellery. There are also some wonderful non-chain shops just perfect for idle browsing or gift-buying.
Rag Mama Rag Vintage - 219 Cuba Street, Wellington. Offering free in-house alterations on their stock.
Also worth a look for vintage options are Spacesuit, Emporium Vintage Boutique, Ziggurat and Hunters and Collectors.
If up to date goods are more your thing then the boutique-shop-meets-art-gallery air of Madame Fancy Pants on 217 Cuba Street, Wellington, may be just the thing while Abstract Design on 125 Cuba Street presents a 21st century Aladdin's cave of unusual gifts and quirky home decor items.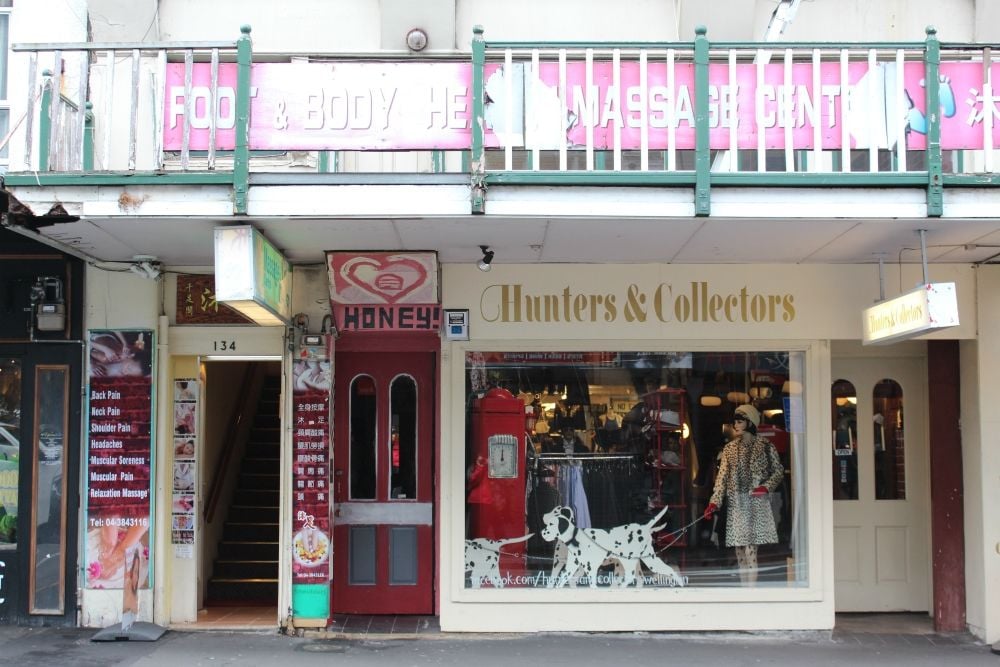 Letting the Street Entertain Me
Perhaps my favourite Cuba Street pastime is simply to stroll its brick road in search of the wackily wonderful or the beautifully bizarre.
This street is busker and street entertainer central. At any given moment, you may watch a uni-cyclist lurch past while on the other side of the street is a woman modelling hats from balloons in time to the feet-tapping tunes of a 7-piece ragtime band. Street artists work in every medium, from chalk to spray-can paint, while the musicians and even DJs can be seen playing just about every instrument known to man with occasionally strange collaborations emerging.
The backing sound track to it all is created by the marvellously kitsch and clunky primary-coloured bucket waterfall splashing away which, perhaps accidentally, perfectly epitomises the whole air of Wellington's Cuba Street.