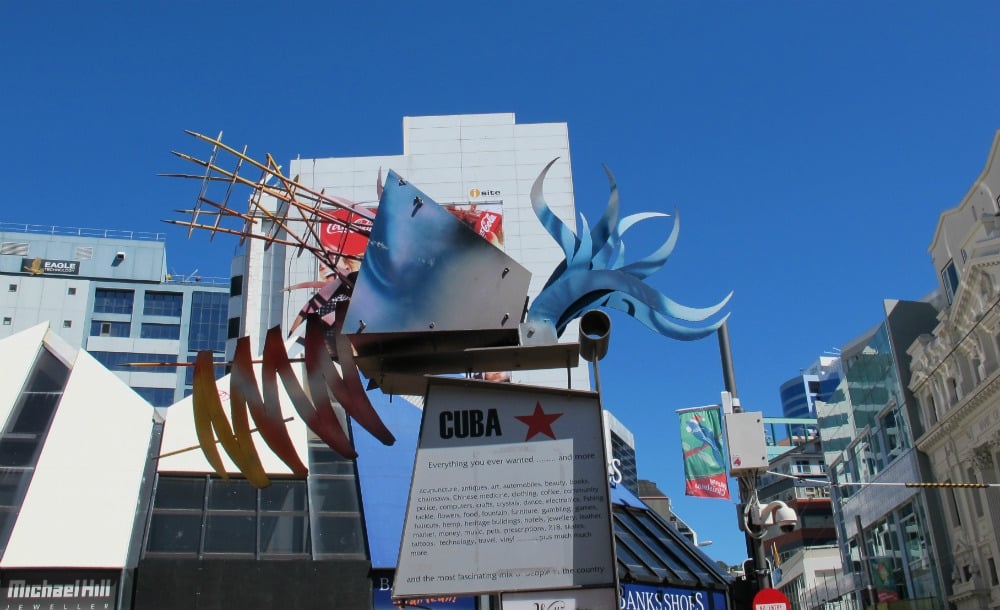 Cuba Street
Cuba Street is the hub of Wellington's entertainment district with a collection of boutique bars, cafes and shops and a distinct 'vibe' that comes to life late at night.

Cuba Street was named after a New Zealand Company immigration ship and was originally constructed in 1841. Buildings began to appear in the late 1840s but a big fire in 1879 destroyed most of the buildings in the street. This event led to a move away from using timber in commercial buildings in New Zealand. Substantial elegant retail buildings were erected and many of these can still be seen today

The subsequent rejuvenation of Cuba Street reinforced its status as one of Wellington`s prime retail streets
Cuba Street was also home to many artists and small businesses, and the street has retained this diverse mixture of business and artist influence today.
Trams first ran up and down Cuba Street in 1878, initially steam driven before moving over to electric in 1904. The tram rails were removed in 1969 and the street has remained closed for motor vehicle traffic ever since.

With the suburbanisation of Wellington in the 20th century, many residents moved out of the area and Cuba began to lose its trade and popularity. The establishment of Cuba Mall in 1969 helped revive the fortune of the street.
Today, Cuba Street remains a unique part of Wellington, with a strong community spirit and a vibrant atmosphere largely unchanged from the 20th century.