A Guide to Wellington's Beaches
Family Fun
Discover the best beaches of Wellington
Our Top Experiences and Tours in Wellington:
If youʻre booking your trip to Wellington last minute, we have you covered. Below are some of the top tours and experiences!

New Zealand has over 15,000 kilometres of coastline, and the capital city certainly makes good use of its share. With everything from sandy stretches along a boardwalk, perfect for people watching, to sheltered swimming beaches to lonely, rocky shores that call for exploration, Wellington's beach scene has something for everyone.

Check out these Wellington beaches next time the sun shines on the city:

1. Oriental Bay

City meets beach in a very pleasing way at Oriental Bay. A man-made stretch of golden sand (22,000 tonnes of it was brought in from the South Island to create the beach), Oriental Bay is just a few minutes' walk from downtown Wellington - from the waterfront, head towards the fountain spitting water straight up and back into the harbour.

The urban setting makes this a great spot for families: there are restaurants and cafes nearby for ice creams and lunches, plus the playground at Waitangi Park is close enough for an easy migration if the little ones get tired of the sand. The wide promenade along the coast is another attraction, and a constant stream of joggers, walkers, bikers and pedi-cabbers makes for some great people-watching.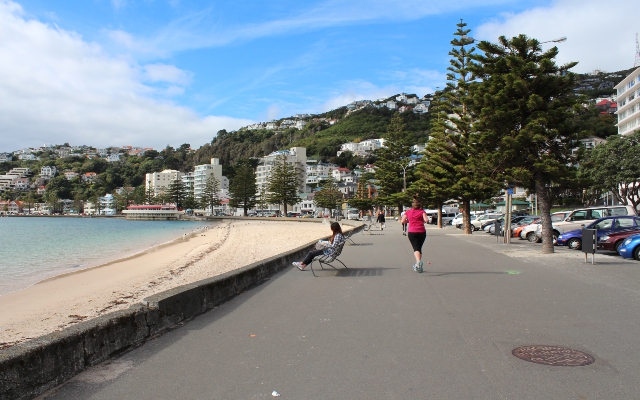 2. Lyall Bay
Wet-suited surfers bob like seals in the waves at Lyall Beach, a safe, sheltered beach on the south coast of Wellington. Popular with swimmers, surfers and surf lifesavers, there is always plenty of activity in the water. Wetsuits are recommended - the water can be bracing.
Non-swimmers can stretch out on the soft sand and watch airplanes flying low overhead - the airport is practically within spitting distance - and ferries arriving from the South Island. Before you head home for the day, swing into the funky art deco building in the middle of the boardwalk. It's an old surf lifesaving club that has been repositioned as one of the coolest cafes in the area.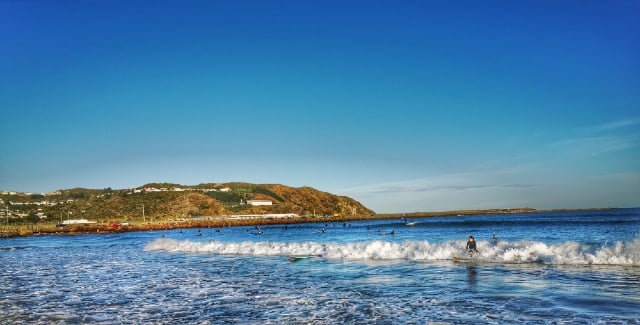 3. Scorching Bay
Scorching Bay is a very small, friendly beach, near the suburb of Seatoun on the east coast of Wellington. The very small strip of sand is buttressed by an equally small strip of grass, perfect for frisbee games or tossing around a rugby ball. There is also a metal jungle gym structure for kids to play on.
On the northern end of the beach is a rough outcropping of rocks that can be fun to explore. They also give the beach an extremely photogenic, rugged quality. A cafe across the street completes the scene by ensuring there's no shortage of ice creams or cold drinks.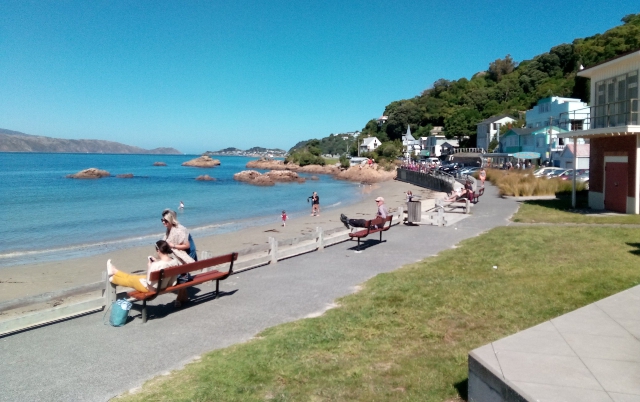 4. Island Bay
One of the first things people notice about Island Bay are the cute boats bobbing in the harbour, taking advantage of the calm anchorage provided by the rocky Tapu Te Ranga Island. The sight is so picturesque that it inspired local art hero Rita Angus to paint one of her most iconic pieces: 'Boats, Island Bay'.
The waters here are part of the Taputeranga Marine Reserve, which means no fishing. Rather, visitors are encouraged to check out the local sea life on its own terms. Put on a snorkel and view the kelp forests and sea wrasses by following the Island Bay Snorkel Trail (marked with buoys in the water). A few dive companies also offer guided trips within the reserve, including to a ship wrecked here to make an artificial reef.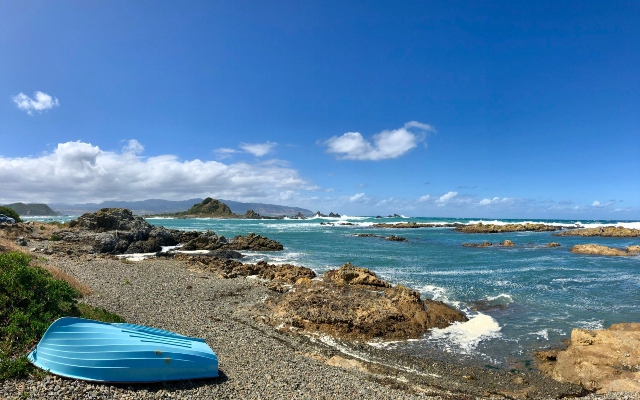 5. Red Rocks
Don't head to Red Rocks (at the far end of the road following Wellington's southern coast) expecting a nice place to lay out a towel and relax for a few hours. This rocky beach is not good for much save walking, but if a coastal hike is what you're looking for then you won't find anywhere better.
A hike along the beach will take you past a scattering of weirdly red rocks (they get their colour naturally, through iron oxide) as well as a seal colony. The walk to the seal colony and back takes a few hours -remember to bring water and sun block.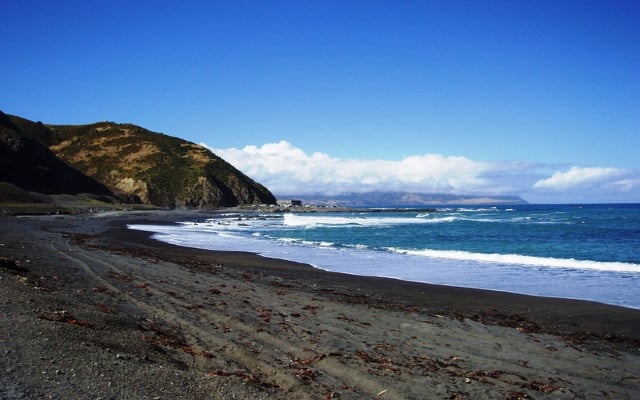 6. Days Bay
Days Bay is across the harbour from downtown Wellington. The beach is accessible by road, but it's more fun to take the Dominion Post Ferry - a twenty-minute ride leaving from Queen's Wharf.
Days Bay is a popular beach and is safe for swimming. Take advantage of the Days Bay Boatshed near the pier, which rents out equipment for any activity you might want to try, including kayaks, mountain bikes, fishing gear and cricket sets. A short walk from the beach is Eastbourne village, a cute shopping area with some worthy galleries and antique shops for browsing.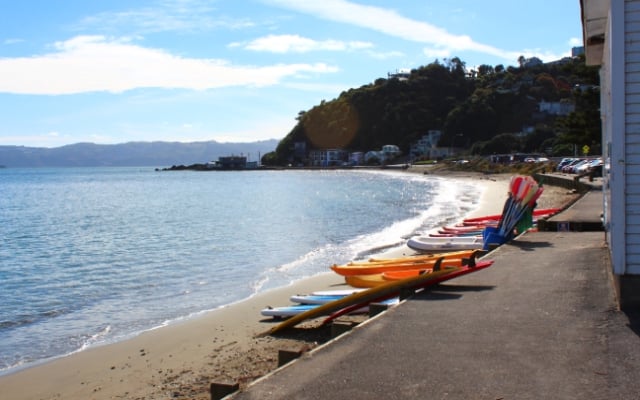 7. Makara Beach
Pack your hiking boots along with your sandals for a trip to Makara Beach. Beyond the western suburbs is an isolated and undeveloped stretch of sand, hemmed in by cliffs with some excellent walking trails weaving over them.
There is a 6 km (plan for about two and a half hours of walking) hiking trail that runs across the beach and up the hills, looping back around to the parking lot. The track climbs to some great vantage points of the beach, past an old pa site (maori village) and near gun emplacements installed during WW2.

8. Petone Beach
A long, sandy beach stretches out in front of the commuter suburb of Petone, ending at the mouth of the Hutt River. The length of the beach makes it a great spot for joggers. The Settler's Museum adjacent to the shore is a nice stop for some information about the area's early inhabitants.
When you get hungry, walk a few blocks inland to the historic shopping district on Jackson Street. The street is lined with cafes and boutique shops in scenic townhouse style architecture. You can reach Petone by car, ferry or train from Wellington.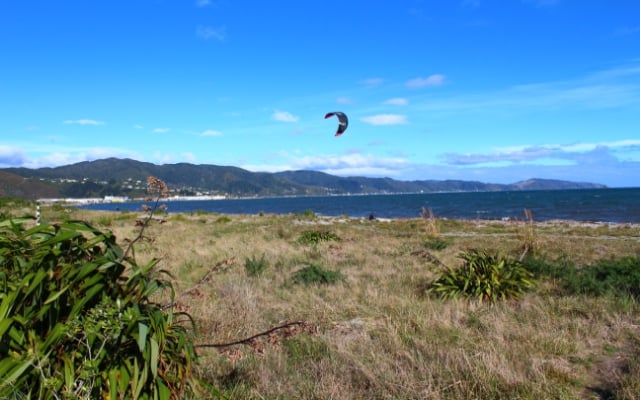 More Wellington Activities:

Check our Wellington Experiences to find out the best activities and take advantage of the best prices.

Car Hire:

If you need to hire a car to explore Wellington, check our My Guide Car Rental Comparison Tool.