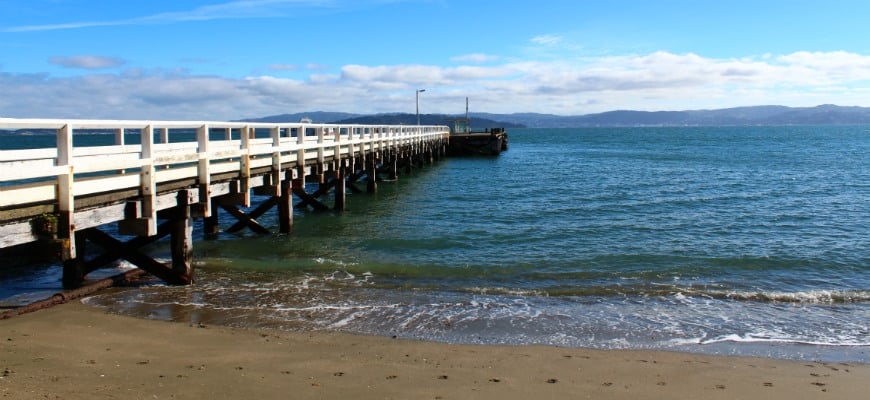 Eastbourne and Days Bay
A suburb of pretty coastal coves, the Eastern Bays area of Wellington is a popular destination for walkers, swimmers, nature lovers and - because of Wellington's naturally windy harbour - water sports enthusiasts. Its proximity to the Wellington downtown area, makes it easily accessible for short day trips or longer.

You can either hop on the ferry between Queens Wharf and Days Bay (approximately 20 minutes one way), or enjoy a leisurely half hour drive around the north of the harbour - just south of urban Lower Hutt - taking in the idyllic seaside resorts of Petone and Seaview. Alternatively, non-drivers can sit back and let the Valley Flyer bus take the weight.
Along the way, Point Howard and Sorrento Bay are great places to take pictures of the harbour, with lots of yachts moored here. In Lowry Bay and York Bay, you'll be able to paddle along the pretty stretches of shale beach, as well as pop into the scenic Francis Bell Reserve.

Mahina Bay and the smaller Sunshine Bay add to the area's ruggedness, while Rona Bay and Robinson Bay have some great little cafés and antique shops - the views up into the wild, cliff-side bush are truly spectacular. When in bloom, the striking red flowers of the northern rata trees make the landscape look almost Italian, and the myriad walking paths around the area, as well as the inland parks and gardens, make the Eastern Bays a haven for ramblers, mountain bikers and birdwatchers.

Days Bay
One mile north of Eastbourne is Days Bay, named after the Day family, who lived here in the 1840s. This hamlet is the perfect place to enjoy a picnic, unwind or enjoy the pretty beach. Soak up the magic that inspired Katherine Mansfield to write her short story "At The Bay". This is also where you'll dock if you're coming by ferry from the CBD, so it's a thriving little place.

Water sports are available (kayak hire, boat charters etc), and there are a few interesting little artisan shops, cute cafés and art galleries in which to while away an afternoon. Take advantage of the outdoor restaurants, from which you can enjoy superb, local cuisine with equally impressive scenery.
Eastbourne
The hub of Eastern Bays life, Eastbourne is a picturesque seaside town with a number of amenities. Rimu Street sits at the centre of things and includes a couple of bars and restaurants, a pharmacy, a deli and a book shop. At the end of the street you'll find a pretty pier offering fantastic views straight across the harbour to Wellington.
Holiday lets are popular, and Eastbourne is the perfect base from which to get out and explore the cliffs, headlands and nature reserves that define this rugged coastal landscape. While you're here, get out on the water and enjoy kayaking, boating or windsurfing. There's a real community feel in Eastbourne, so it's ideal for family days out, or anybody who just wants to escape the city for a few days.
South of the town, at the end of the coast road (Muritai Road), you'll find Burdans Gate, beyond which is a stunning coastal path which takes you all the way to the entrance of Wellington Harbour. For great photo opportunities that won't be ruined by vehicles, this is a must. You'll also see lighthouses, jaw-dropping cliffs and, if you're lucky, pilot whales and a wandering penguin or two. You can also hire bikes here, if walking seems too much like hard work.