Hutt Valley
Our guide to Wellington's Hutt Valley
Named after Sir William Hutt, one of the early colonists, the Hutt Valley lies around 15 minutes north of Wellington is comprised of mainly flat land, from the industrial Upper Hutt, near the Taita Gorge, to the more commercial Lower Hutt, further south, along the Hutt River. The area classed as Hutt City includes Lower Hutt, the harbour towns of Petone and Eastbourne, and the untamed landscape of Rimutaka Forest Park, out near Wainuiomata.
What's special about the Hutt Valley, is the unique variety of terrain over such a small area. Seaside towns, wilderness, flood plains, valleys, forests, industrial and commercial centres, and residential suburbs, all within a short hop of each other.

The area has plenty of walking tracks weaving in and out of the suburbs and around the more rural locations (some of the best views of Wellington are from Hutt Valley), and it's popular with Wellington commuters who prefer to live out of the city, creating higher house prices. Attractions include the Silverstream Railway, with its vintage engines and rides on the old track, and the Dowse Art Museum which houses an array of multimedia exhibitions and is one of Wellington's most important art complexes.
Lower Hutt
Lower Hutt is where most of the Valley's residents live. It has a busy, commercial CBD, packed full of industry, businesses and tight residential suburbs, plus a Westfield mall at Queensgate. This is also where you'll find a good concentration of restaurants and bars, as well as shops, and there's some good quality accommodation for visitors, which is cheaper than staying in Wellington. Access to the capital is simple - straight down the Western Hutt Road (SH-2).
Petone
At the extreme south of the Hutt Valley, on the harbour, was supposed to be the original location of what became Wellington, but concerns over flooding persuaded the colonists to relocate the city to south of the harbour. It's an upmarket place, with lots of old houses and a proud heritage. It's also a magnet for artists and boutique store owners, who like the quaintness and charm of places like Jackson Street, Cuba Street and Buick Street. Cafes, craft shops, ethnic food stores and art galleries abound here, and the waterside location makes it a popular tourist spot, particularly in summer.
The Petone Rotary Fair is held every year, raising money for local charities, and which turns the town into one big street party, with stalls, entertainment, food, drink and plenty of live music. Other attractions include Petone Rugby Club, one of the oldest in the country and the tiny Petone Police Station & Jail, New Zealand's oldest serving police station, and now a historical museum (despite its minute size!).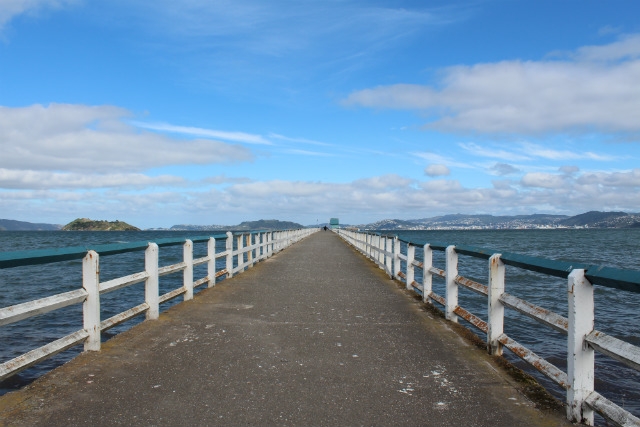 Eastern Bays
South of Petone and looking across the harbour to Wellington, you'll find rugged cliff top walking tracks and fantastic beaches. From Wellington's Queens Wharf, you can catch a 20-minute ferry to Days Bay and explore the village streets and cafes, before heading over to Eastbourne, where you'll find many more shops and plenty of places to eat. Walk one of the Butterfly Creek trails out of Eastbourne, taking you up into the hills and forests, and offering amazing views of the harbour and villages below.
For a coastal stroll, get onto the flat Pencarrow Coast Walk and visit New Zealand's first lighthouse, and the stunning Kohangapiripiri and Kohangatera Lakes. This area is also popular with mountain bikers, with plenty of trails in and around the villages and city suburbs.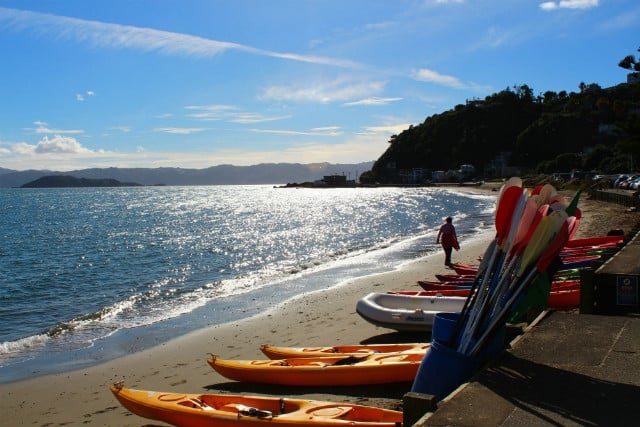 Wainuiomata
To the east of Lower Hutt, is often considered a separate district, set apart from the rest of the Valley by the Eastern Hutt Hills, and has a landscape all of its own of rugged forest and wilderness, with plenty of scenic reserves. It's comparatively isolated from the Eastern Bays and Lower Hutt, and sits alone surrounded on three sides by hills. Proud of its strong sense of community, there are several established sports teams here, with rugby union being a particular obsession for the locals.
Upper Hutt
In the northern Valley, a half hour's drive from Wellington, is Upper Hutt. Although larger in area than Lower Hutt, there are 60% fewer residents here, and it's a quiet, more relaxed city than its sister down the road. The CBD is small and compact, but still has plenty of shops, bars and restaurants.
One of the big attractions is the proximity of many walks and bike trails straight out of the city and up into the bushy hills or along the Hutt River, so it's a popular day trip destination. Other attractions include the Maidstone Max bike trail, and the H20 Xtreme Aquatic Centre, which contains hydroslides, swimming pools, wave machine and a simulated beach.