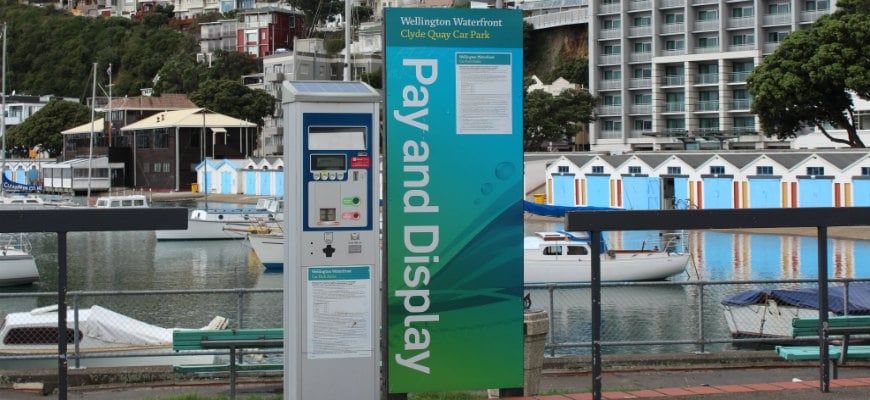 Wellington Parking
Wellington Council and a few private operators manage the parking around Wellington. We've put together a quick guide of parking options available, concentrating around the downtown area.
Free Parking
At the weekends, parking is free on the inner city 'on street' parking spaces. It's also free at the council run Michael Fowler Centre and Civic Square car parks, but time is restricted. Clifton Terrace offers a lower weekend charge and longer term. Some commercially run car parks also offer lower cost weekend parking in the city centre.
Pay and Display Parking
Hourly parking fees in the central business fall into three charge rates of $1.50, $3 and $4 per hour during the week. The fees apply from 8.00am to 6.00pm and until 8.00pm on Fridays while at Thorndon Quay, fees last until 9.00pm. Weekend parking is free, but time restrictions apply. The silver pay and display machines take cash, credit card and text messages while the older green ones only accept cash (outside the city and to be eventually replaced).
Paid Car Park
Wellington Council manages the Civic Square, Michael Fowler Centre and Clifton Terrace car parks all located in the CBD. They cost $4 an hour from 6.00am to midnight and $2 an hour from midnight to 6.00am. Prices and payment methods vary, so check the signs when you park. The 'Early Bird' special rate for the Civic Square car park is $15 for the day if you get in before 8.30am while the same rate applies to the Clifton Terrace car park if you get in before 9.30am.
Wilson's is New Zealand's largest private car park operator and manages over 30 car parks in the CDB area. View their car park location map to identify your best option.
Disabled Parking
Mobility parking permits allow you to park in a council owned car park (excluding parking buildings) for longer than the time restriction. The same parking fare applies. A full list of 'mobility car parks' can be found on Wellington City Council's disabled parking page.
SmartPark
SmartPark is a personal parking meter that takes away the need to have cash for meters or pay and display machine. You need to lease a SmartPark meter and buy a pre-paid SmartPark card from the Council's service centre in Wakefield Street or from Wellington Parking and Infringement Services on 40 Taranaki Street. There are $50, $100 and $200 value cards available with a $5 cost for each card (a $50 value card will cost $55).
Airport Parking
An hour's parking in the terminal is $11 while two hours costs $17. Long-term parking cost $27 for 24 hours. Check the Wellington Airport Parking website for full pricing information and to book online.